Have you ever wondered about using a vibrating slimming belt or massage belt? Vibrating slimming belts are undeniably becoming more and more popular as time goes by, and this might make them an excellent option to consider for your own toning and slimming needs. However, to make the most of your toning and slimming efforts, it's crucial that you consider the best ways to use a vibrating slimming belt; as such, today, we've come up with some essential ideas and tips to help you get the most from your slimming massage belt overall.
What is a Vibrating Slimming Belt?
Before we can go any further, we should start by considering what a vibrating slimming belt is. Indeed, understanding how these simple devices work is pivotal to ensure you get the best from your own belt; luckily, they're quite easy to understand. 
A slimming massage belt is worn directly on the skin and vibrates gently for the duration it's worn, as the name would suggest. These vibrations, in turn, may help tighten the muscles in your stomach (as would naturally happen during exercise) based on the Electric Muscle Stimulation, or EMS, theory. In turn, it is believed that this stimulation can help tone your stomach muscles, leading to a more chiseled physique.
However, the EMS theory isn't the only basis for vibrating slimming belts' efficacy. Indeed, a slimming massage belt can also be effective for weight loss thanks to its ability to reduce your food intake, in turn helping you to limit the number of calories you consume over the day (and potentially helping with dieting).
Finally, it's also worth considering that slimming massage belts may also help promote slimming and weight loss thanks to their ability to increase perspiration. In turn, this can help cut the amount of excess water stored in the body and support your other slimming efforts overall. 
Overall, vibrating slimming belts may offer a practical solution for toning and weight loss, and this has made them incredibly popular options for many people to consider these days. It's also worth considering that there are many different types of slimming belts on the market; as such, finding one that meets your unique requirements is much easier than you might realize.
The Benefits of Slimming Massage Belts You Should Consider
What are the key benefits of using slimming massage belts? There are numerous reasons why people have begun turning to slimming massage belts to help with their toning and weight loss goals, but some of the most notable include the following:
They're incredibly affordable toning solutions to buy, making them versatile solutions for almost any budget.
Slimming massage belts are so easy to use; simply put them on next to the skin and get on with your normal routine, or otherwise sit back and enjoy the experience.
You don't need to use vibrating massage belts for a long duration to begin seeing benefits. Even a 15-minute session daily may be enough to promote stomach muscle toning.
If you don't have the free time (or energy) to head to the gym, vibrating massage belts may offer an excellent stand-in solution. As such, you can quickly begin toning your body through vibrations without any of the pain that a normal massage might elicit.
Some slimming belts may be effective for promoting overall digestive health and bowel movements – leading to a healthier, happier you overall. What's more, they also help support healthy blood circulation around your tissues, which may help burn excess calories, prevent fat storage and leave you feeling refreshed and energized overall.
How to Use a Vibrating Slimming Belt
At this point, we've clarified some of the key things you need to know about vibrating slimming belts, how they work, and their benefits. However, how can you use a vibrating slimming belt to get the best possible results? Fortunately, the following factors may help you find a suitable solution for your own slimming belt needs.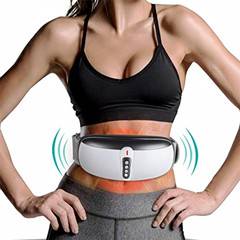 Understanding the Different Types of Vibrating Slimming Belt
Before you can begin using a slimming massage belt, you'll naturally need to invest in one – and this will play a pivotal role in your overall success. Indeed, not all slimming belts are created equally; as such, when purchasing a belt for your slimming and toning needs, you should look for a few critical features to make your decision a little easier: 
Ideally, look for a slimming belt that offers different vibration levels and massage modes to ensure that you can tailor the belt to your unique requirements. The ideal vibrating slimming belt should be one that is capable of oscillating at up to 6,000 rpm/minute, which provides a comfortable slimming experience while remaining effective.
Choose a vibrating slimming belt that is designed to be lightweight. After all, an excessively heavy slimming belt might make it difficult to use the belt for an extended duration; as such, this decision is critical to ensure you're able to use the belt comfortably.
Your slimming belt will be worn directly on your skin; as such, you should always choose a belt made from premium quality, skin-kind materials that won't irritate your skin overall.
Where possible, choose a slimming belt that's designed with absorbent materials and a gentle warming sensation to get the best from your belt without having to worry about feeling hot, sweaty, or uncomfortable during the procedure.
Fortunately, if you're still unsure about the best place to begin your search, our range of top-quality slimming belts here at rilassa may be a great option to consider. We have tirelessly created all of our vibrating slimming massage belts with quality in mind, so you can enjoy a comfortable and effective toning experience overall.
Using a Slimming Massage Belt for Best Results
To get the best results from your slimming massage belt, we highly recommend you choose a belt that's comfortable to use over an extended duration of time. As we've outlined prior, this means that your belt needs to be lightweight, made from absorbent and soft materials, and must provide effective but not excessive vibrations.
The optimal time to use a slimming massage belt is around fifteen to twenty minutes. Studies have concluded that low-intensity vibrations over short periods of time are also highly effective ways to boost immune system function through mechanical signals, which may further promote your overall wellbeing and health. 
Once the twenty-minute period has finished, you can remove the vibrating slimming belt and carry on with your day as normal. It's really that easy – and this is part of why so many people are investing in their own slimming massage belts too. But remember: the quality of your chosen slimming belt is pivotal for success, so you should always check the belt's features and past customer reviews before making a purchase, to be safe.
Combine Your Massage Belt with Exercise for Quick Results
Using a vibrating slimming belt is highly versatile, and it's even possible to begin seeing results while sitting down and watching TV!
However, if you want to promote the process of toning and slimming with your massage belt, we highly recommend pairing it with gentle exercise options, such as a brisk walk or climbing the stairs. In addition, following a careful (but not overly restrictive!) diet plan may also help. 
These simple steps can help boost the toning and slimming potential of your vibrating massage belt, and could be a great way to see results even more quickly. After all, while massage belts are effective, they're not some sort of "miracle solution" and aren't designed to blast fat at a dangerously fast speed; nevertheless, they remain a pivotal component of many toning and slimming routines, and could be an excellent option for you to consider as well. 
Final Thoughts
They're not necessarily a new invention – in fact, vibrating slimming belts have been around for decades by now. However, these slimming massage belts have really begun to take off in popularity as of late for their practical toning and slimming solutions.